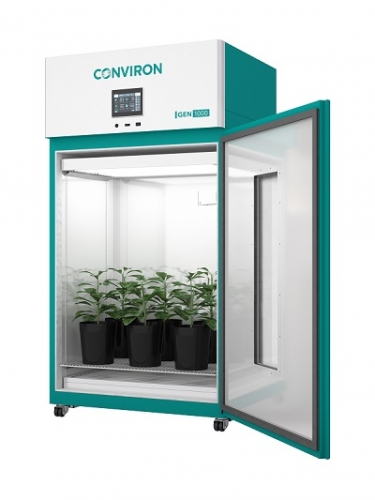 GEN1000 Reach-In Plant Growth Chambers
ONE CHAMBER. FOUR APPLICATIONS.
The GEN1000 can be fitted with one of four kits: Tall Plant, Short Plant, Tissue Culture, and Incubation. Additional kits are available allowing researchers to convert the chamber to adapt to a variety of research programs that require different light intensity, airflow direction, growth height and growth space.
The GEN1000 comes equipped with Conviron's most advanced controller – the CMP6060. In addition to powerful programming and reporting capabilities, the CMP6060 includes a full-color, high resolution touchscreen with an intuitive graphic interface
The standard lighting systems for the GEN1000 incorporate broad spectrum 12W T5 LED fixtures configured to suit the intensity required for each application and kit
Precisely designed and manufactured air plenums are used for each of the four application kits
The air-cooled refrigeration system is optimized to ensure uniform conditions regardless of the particular kit installed
The GEN1000 can be easily adapted for entomology research by selecting the optional phenolic coated refrigeration coil, which protects it from insect damage