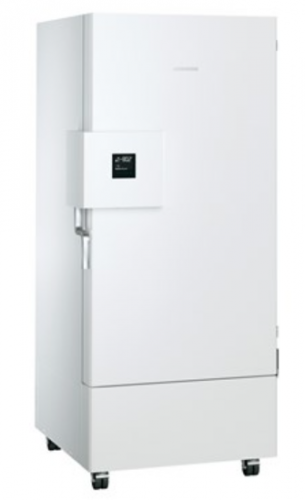 Liebherr SUFsg 5001 MediLine Ultralow Freezers
Liebherr guarantees the outstanding quality of its refrigeration systems through expertise derived from decades of experience in the refrigeration technology sector, and through continuous research and development. All Liebherr impulse sales chest freezers use R600a or R290 as refrigerants and offer outstanding energy efficiency, which improves their CO2 footprint and promotes sustainability.
Spacious capacity with 491 liters in total gross and dimension (HxWxD) of 196.6 x 92.0 x 108.2 cm, SUFsg5001 MediLine is made by considering the space limit in laboratory.
Using R290 as refrigerants and having energy consumption per year only 2,884.00 kWh/a, SUFsg5001 MediLine is efficient in reducing cost and adverse effect on environmental.
Adjustable temperature range -40°C to -86°C with cooling down time 360 mins and warm up time 230 mins.
Integrated temperature alarm uses both acoustic and visual signals if the lower or upper alarm thresholds have been breached to provide maximum security.